In this original tale of Samantha Skunk: Why Smoking Stinks a team of 5 students conveys the story of how Samantha tries smoking. After smoking, Samantha changes color from her "unique" magenta color to green. As the story progresses, Samantha turns back to her beautiful magenta color with the assistance of another character: Solomon the parrot. In the end, Samantha promises to "never smoke again – and to spread the word to help others".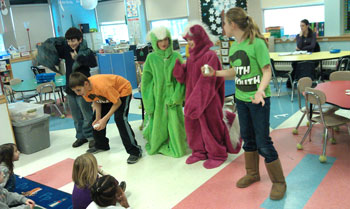 An audience participation element is added to the presentation when the student-narrators periodically ask the class: "What do we know
about smoking?" To which half the class answers "Smoking stinks" and the other half replies "like camel's breath!!!" The underlying strategy
is one of social disapproval (smoking is yucky) as opposed to focusing on the cancer and health-related issues that are taught to students when
they are older.
In Dover, this presentation is provided to K or 1st grade students in individual classrooms (our preference) but it can be delivered as a larger assembly. K or 1st grade is probably the best age range for the Smoking Stinks version. By 2nd grade we recommend transitioning to the Love Your Os version and its more sophisticated message about oxygen, exercise and lung health.
Presenting the Smoking Stinks version requires 5 student-presenters: two narrators, magenta and green skunk characters, and the Solomon parrot character. A 6th student can be used to display the large plastic boards that display the text of the story from behind the audience – or that role can be performed by an adult.